​​​​​​​Introducing
ARDVRECK NURSERY
We firmly believe that a classroom needs no walls and therefore create a wide variety of indoor and outdoor learning opportunities for children using the spaces and facilities that Ardvreck School has on offer.
Everyday our children enjoy a nature walk, and have weekly visits to our established forest area where they explore, build, investigate and have fun in the forest. All our staff are trained in providing safe, secure and educational forest activities. The children's minds and bodies are stimulated by the great outdoors, allowing them to learn through the landscape.
IDYLLIC NURSERY IN CRIEFF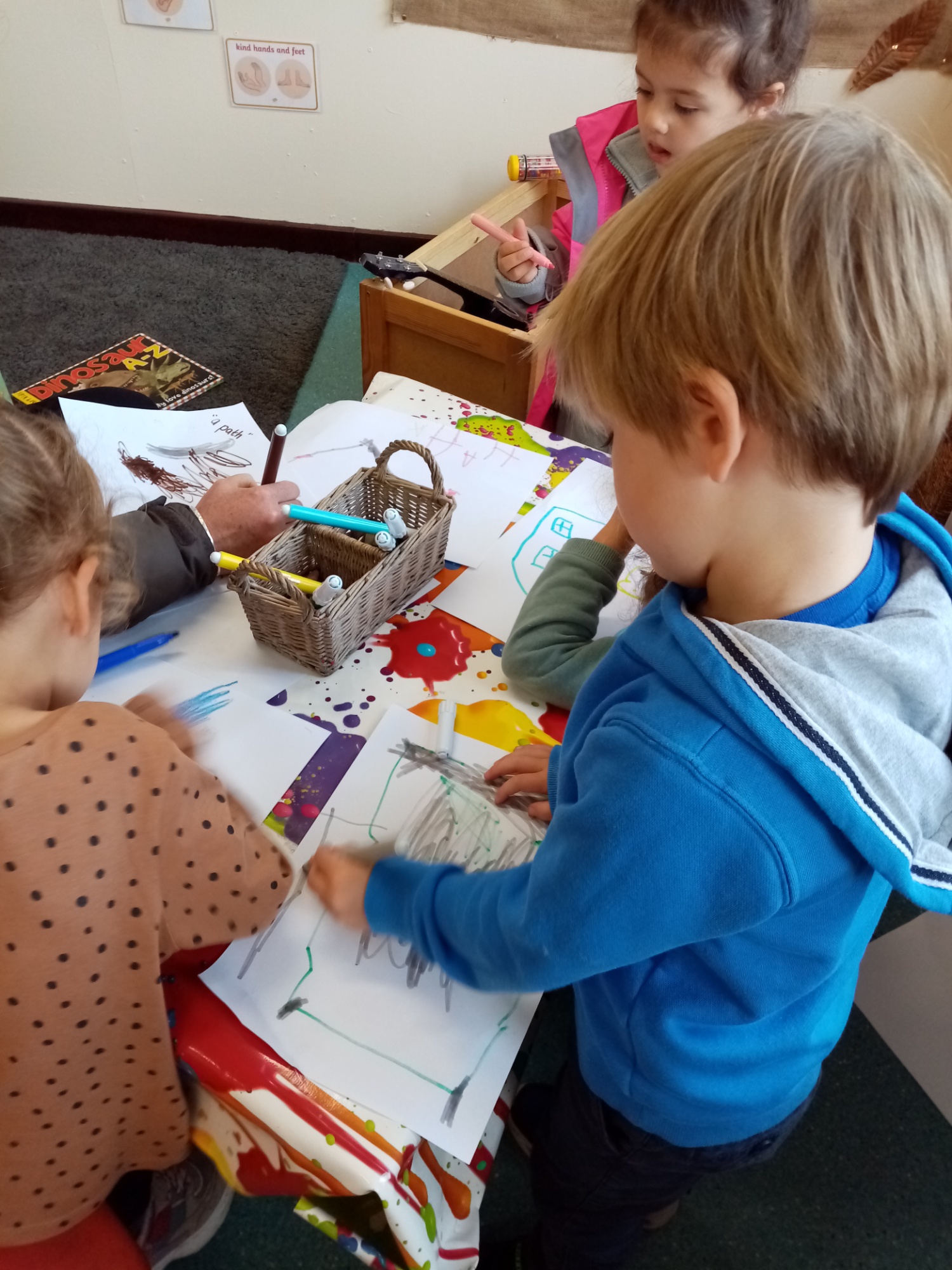 Ardvreck Nursery welcomes up to 30 children, aged three to five, who receive the highest quality of education from sector-leading specialists, including Music, Art, Science, Swimming and Gymnastics. The Nursery in Crieff is open 49 weeks per year and works in partnership with Perth & Kinross Council to offer Early Years funded places.
Set in the beautiful 40-acre woodlands of Ardvreck School, the happy little nursery has access to unrivalled outdoor space where children have the opportunity to participate in Forest School learning. This brings rich and varied learning experiences alive as they learn about the world around them & benefiting from the plethora of advantages that this brings. Our kind, caring & passionate staff will tailor their teaching and learning experiences to encourage & stimulate each child to their full learning potential by developing their learning through their own thoughts and ideas. Through child-led learning, we enable each individual
to thrive & become confident and independent.
OUTDOOR LEARNING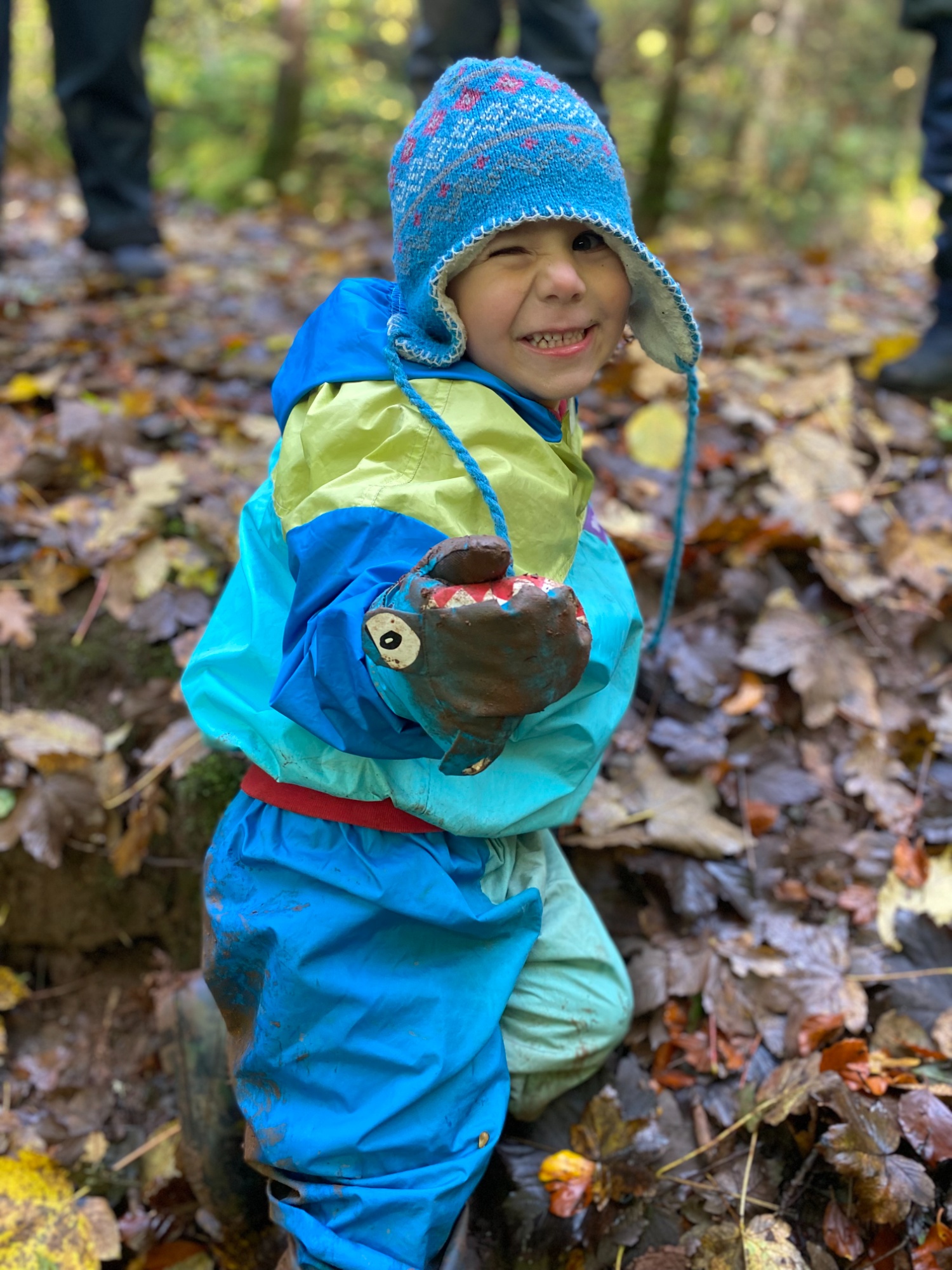 Ardvreck Nursery has been beautifully designed to give your child contact with nature and the outdoors, allowing them to discover and learn something new through the ever-changing seasons. Our Forest School based activities are always hands on, exploratory and exciting. We utilise natural resources and follow children's interests, encouraging children to spend much of their day exploring the natural world around them.
Our secret dens can be found in the woodlands around the Nursery giving the perfect hideout to create stories and let their imaginations run wild, while our mud kitchen gives endless opportunities for sensory, imaginative, creative and exploratory play. At Ardvreck Nursery we are keen to create memories that last a lifetime, such as splashing in puddles, building dens, making mud pies, star gazing, mini beast hunts, playing games of hide and seek, tree climbing, stories round a fire, foraging and roasting marshmallows – all treasures of childhood happen in nature.
The vast grounds set in the beautiful Crieff countryside encompass 40 acres of lush woodland, rivers, dens and our fleet of vehicles enables us to regularly take the children on adventures outside the school.
CHILD-CENTRED APPROACH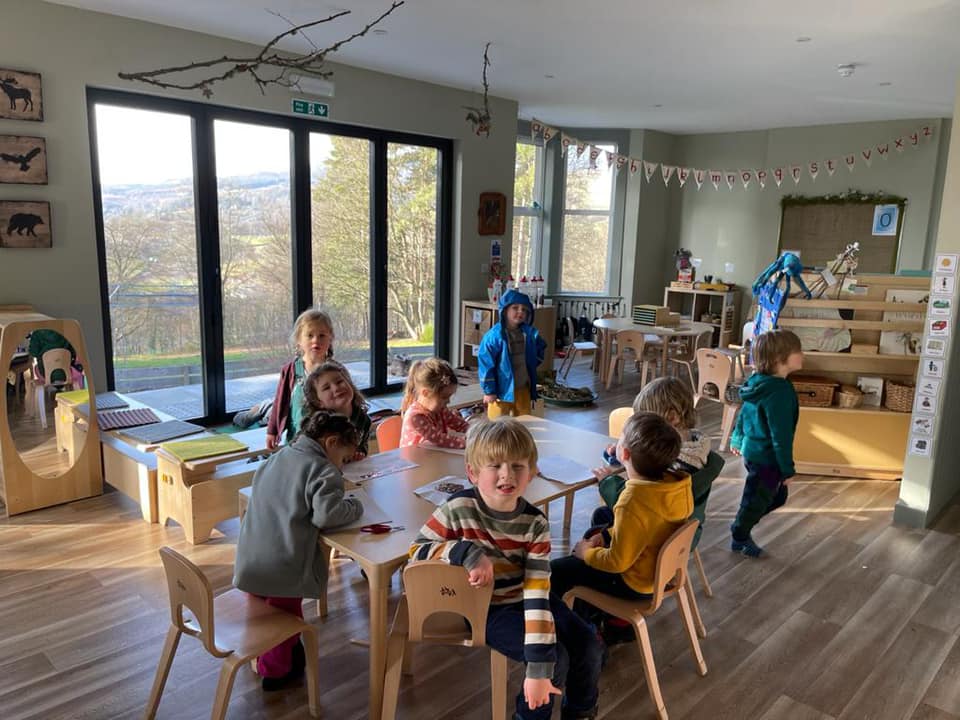 Ardvreck takes a whole-child approach to learning to ensure that all needs and interests of your child are met. Children develop real-world numeracy and literacy skills through play and personal projects, while developing their cooperative skills by working in groups to solve problems and work as a team. The forward-thinking dynamic staff at Ardvreck Nursery in Crieff create exciting learning opportunities on a daily basis to provide a rich learning experience for your child. By learning through play your child applies key skills to real-world problems thus embedding their learning at a deeper level whilst ensuring progress through their learning outcomes in an active setting.
As well as a focus on numeracy and literacy, your child will explore complex STEAM (Science, Technology, Engineering Art and Maths), a forward-thinking, integrated approach to learning that uses all these subjects to guide children's questioning, critical thinking and dialogue also giving children the chance to be engineers, architects, scientists, artists and mathematicians. We welcome the flurry of questions as children's curiosities are sparked at Ardvreck Nursery.
We anticipate that all our young starters are toilet trained before joining the Nursery. We do of course know that accidents may happen and we will ask for a change of clothing to be made available to ensure your children are always dry and comfortable.
PART OF THE SCHOOL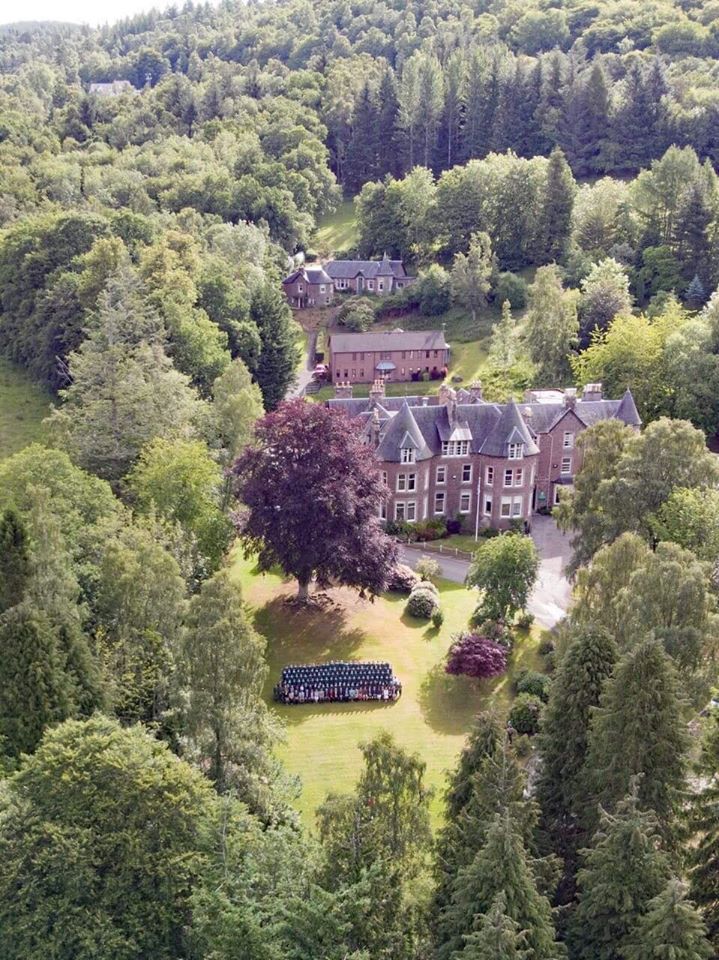 Our Nursery children benefit from full access to Ardvreck's beautiful grounds and educational resources, including its own adventure course, swimming pool, loose parts area, outside kitchen with snack area and many talented specialist teachers who inspire young minds with Art, Music, Science, swimming and gymnastics.
At Ardvreck we nurture and nourish our children. They are provided with a healthy balanced diet, freshly prepared in our school's kitchen. We source as much of our produce as locally as possible and regularly change our menu to include seasonal recipes.
Music will be a constant in and around the Nursery as this ignites their musical journey from an early age whether that be voice, dance, musical instrument or using nature as their instrument.
NURSERY FEES
We are delighted to announce that the Nursery is open 49 weeks per year and works in partnership with Perth & Kinross Council to offer 1140 hours Early Years funded places over 36 specific weeks (detailed below for the academic year 2023/24). The charge for funded sessions, between 8:40am and 3:00pm, is met by Perth & Kinross Council.
Term Time (Perth & Kinross Council funded hours):
The nursery is open from 8:10am to 6:00pm and childcare is available outside of funded hours at an additional charge, as follows:
Early Drop-Off (8:10am to 8:40am): £4.45 per day

After School Club (3:00pm to 6:00pm): £26.85 per day

If both Early Drop-Off and After School Club are used, the total charge is £31.30 per day
Holiday Club Provision
Ardvreck Nursery will operate for a further 13 weeks of the year, offering Holiday Club when the emphasis will be on fun, fresh air and adventure. The Holiday Club day runs from 9:00am until 4:00pm. Holiday Club is charged at £38.50 per day, or £175.00 for a complete week (Monday to Friday).
A calendar which sets out the academic year ahead can be found here.
Little Ardventures
Little Ardventures is a monthly stay and play session for children aged 0-5 years.
It takes place on the second Tuesday of every month
from 12:55pm - 2pm at Ardvreck Nursery in Crieff.
The 'stay and play' style playgroup is free for all to attend.
We welcome all children, from 0-5 years, to come along with their parents, grandparents, nannies or carers, to enjoy free play, arts & crafts, a storytime and a healthy snack (with tea and coffee for adults). These fun, unstructured play sessions are a wonderful opportunity which can encourage children to explore new and exciting activities, encourage speech and language and develop their social skills.
Dates:
14th November
12th December
16th January 2024
13th February 2024
Explorers' Holiday Club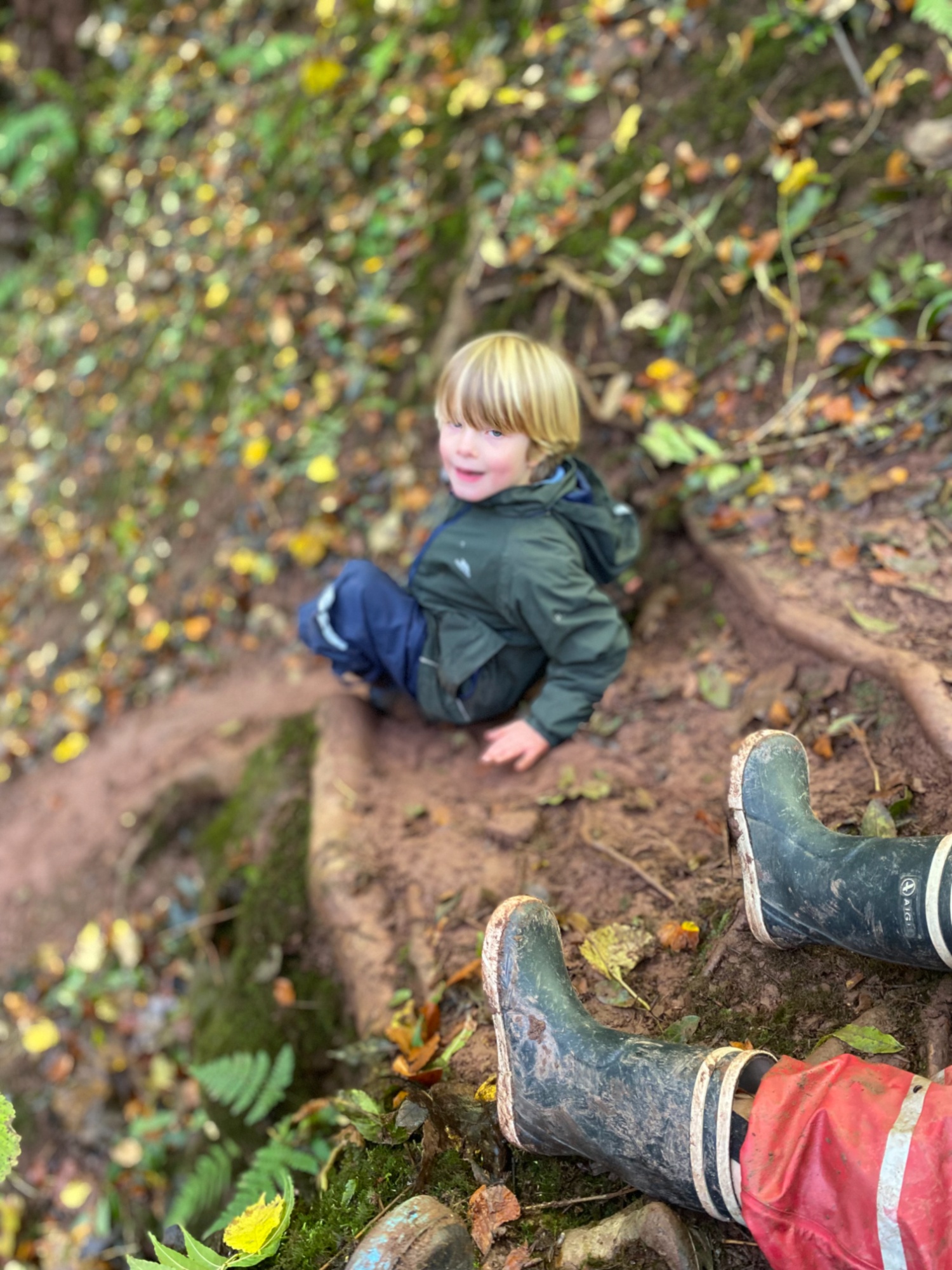 Let your children make new friends and play all day at our Explorers' Holiday Club. We offer creative arts & crafts, interactive games & activities, storytelling, drama, outdoor adventures, nature walks and so much more!
Our Explorers' Holiday Club is suitable for children aged 3- 5 years, and we offer a variety of flexible options to suit your schedule including single day or full week booking choices.
Upcoming Dates
16th - 20th October
23rd - 27th October
Cost
£38.50 per day or £175 each week
Childcare vouchers can be used to pay
Drop-off and Pick-Up
Drop-off at 9am
Pick-up at 4pm
Explorers' Holiday Club Details and T&Cs
Please note: You are required to supply your own packed lunch for your child's holiday activities. To ensure the safety and well-being of all participants, we kindly request that packed lunches do not include any nuts or sweets.
For healthy lunchbox ideas, you can visit the NHS website.
Additionally, please include a cool pack in your child's lunchbox to keep their food fresh throughout the day. We will provide a drink of milk or water, so there is no need to send a separate drink.
Our Dedicated Team
Our experienced and caring staff are committed to ensuring your child has a safe and enjoyable time with us, making new friends and creating lasting memories.
Contact us directly via email: explore@ardvreckschool.co.uk
For enquiries and reservations, please call us: 01764 653112
No reimbursement of fees upon cancellation of registration.
Cancellation Policy
If, for any reason, your child can no longer attend our Explorers' Club, we ask that you cancel their booking as soon as possible by emailing explore@ardvreckschool.co.uk or calling 01764 653112.
If cancelled more than 14 days before the start of the camp, you will receive a full refund.
If cancelled 7-13 days before the start of the camp, you will receive a 50% refund.
If cancelled less than a week before the start of the camp, then it is non-refundable.
A full refund can be given at the discretion of Ardvreck School.