OA CLAY PIGEON SHOOTING CHALLENGE 2022

held at Gleneagles Shooting School on 28th August 2022
Report by Amelia Murray Lindsay (1986-91, Greek)
"Chopin's works are guns buried in flowers"
Robert Schumann
There is an undeniably distinct aroma in the Ardvreck School rifle range. The range is tucked away in an unassuming corner of the grounds, but in relatively close proximity to the school's laundry system. The enormous military grade fans that we use to flush out any lead particles, and suck in fresh air, often become mixed with the perfume of the school's laundry detergent and the result is a heady cocktail of 'guns buried in flowers' such as Schumann described the fragrant resolve of the music of Chopin. It's a unique combination, and probably why I find myself thinking of Guns n' Roses quite often when I'm in there. The range also sucks in fresh air from the kitchen from time to time, and I've been known to accidentally refer to the children's sighter cards, as 'starters' rather than sighters when it's something particularly delicious smelling on the menu. A proper appetite for destruction.
I hadn't really considered the musicality of the rifle range until one new shooter described the shots as sounding like a really 'off-tone snare drum'. She also mentioned that one of the settings on her electrical drum kit is called rifle, but that she's come to realise that it sounds absolutely nothing like a rifle at all. The sounds you may be entreated to on the school grounds are many, and supremely varied.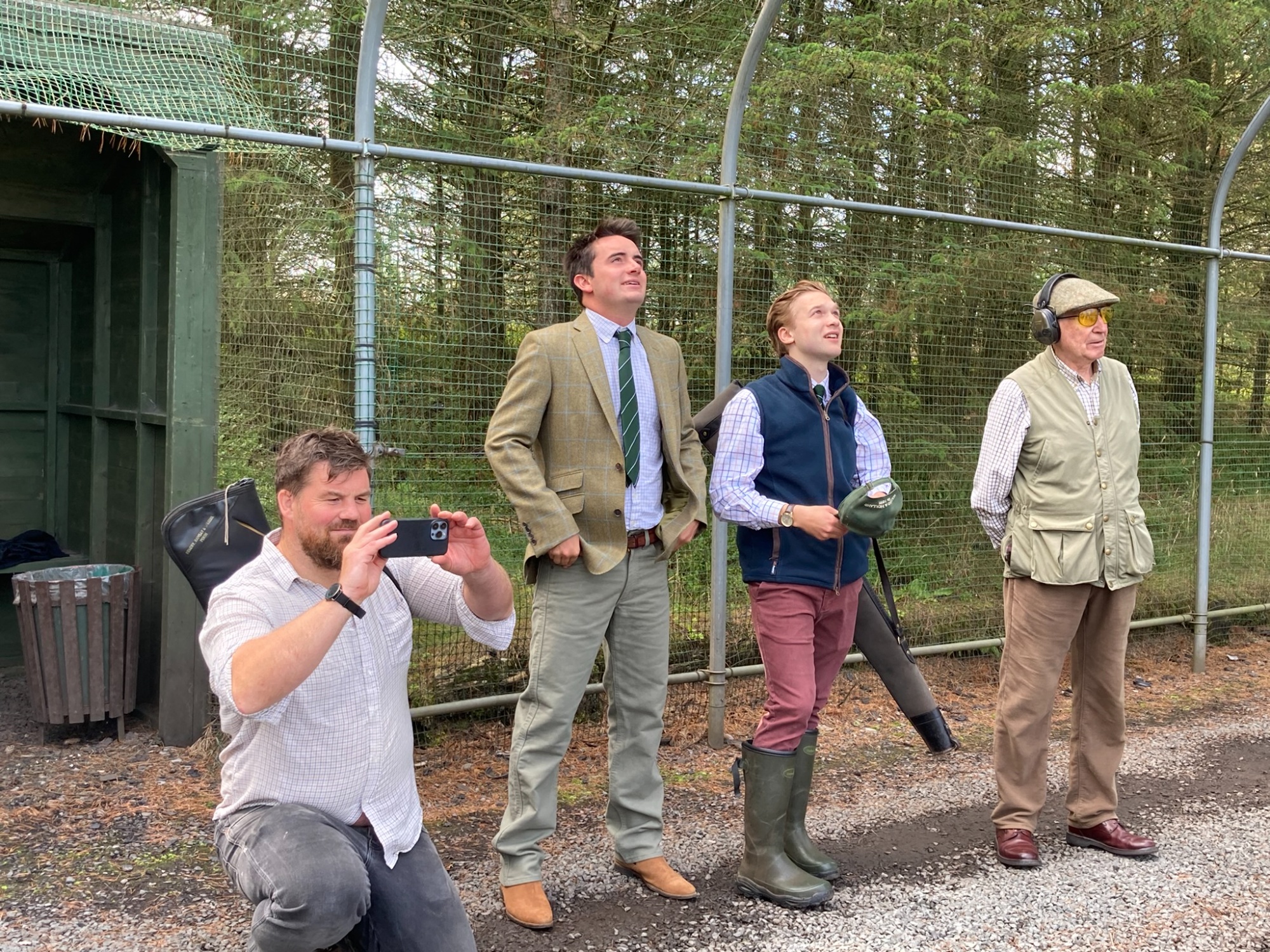 The same shooter also asked me what a clay pigeon looked like- her mind had been racing (like a pigeon?) for years. Luckily, I was able to tell her, nay even show her, as the conversation we had took place hot on the heels of the Old Ardvreckian Clay Pigeon shoot 2022. The shoot was, once again, held at Gleneagles and I had a few clay pigeon remnants to hand in the hopeful anticipation of just such a question.
Last year at the competition my husband beat me by just one solitary clay. "Always beat the other guy", says our friend, a gun dealer from Idaho, "but only do so by one clay". You may recall from Skyfall that all of Bond's family rifles were sold to a gun dealer from Idaho- all except for his Father's Hunting rifle with which James and his grizzled Gamekeeper, Kincaid, practice target shooting on teacups… "What did you say you do for a living…?"
Without John Buchan, there would be no James Bond. Buchan was born in Perth and is credited with creating the modern spy with his character, Richard Hannay. Bond author, Ian Fleming, is known to have devoured Buchan's books when he was a young lad at a Prep school in Dorset. There is much for those in Buchan house at Ardvreck to feel connected to and proud of. The superiority of the various houses was strenuously debated throughout the day of the clay pigeon shoot, with just as much vigour as the shooting itself.
If the 2022 competition belongs to any individual, then that person must be Alan Mickel (1944-48, Trojan Captain). Not only did the Trojans break the Greeks' interminable reign of supremacy under Alan's Captaincy, but he also handed the coveted Duck prize over to Ken Campbell (1954-1960, Trojan). As if this wasn't enough to impress the crowds, Alan also recreated Nicky James' (1940-1946, Greek Captain) astonishing shot of the year before by hitting two clays with one cartridge.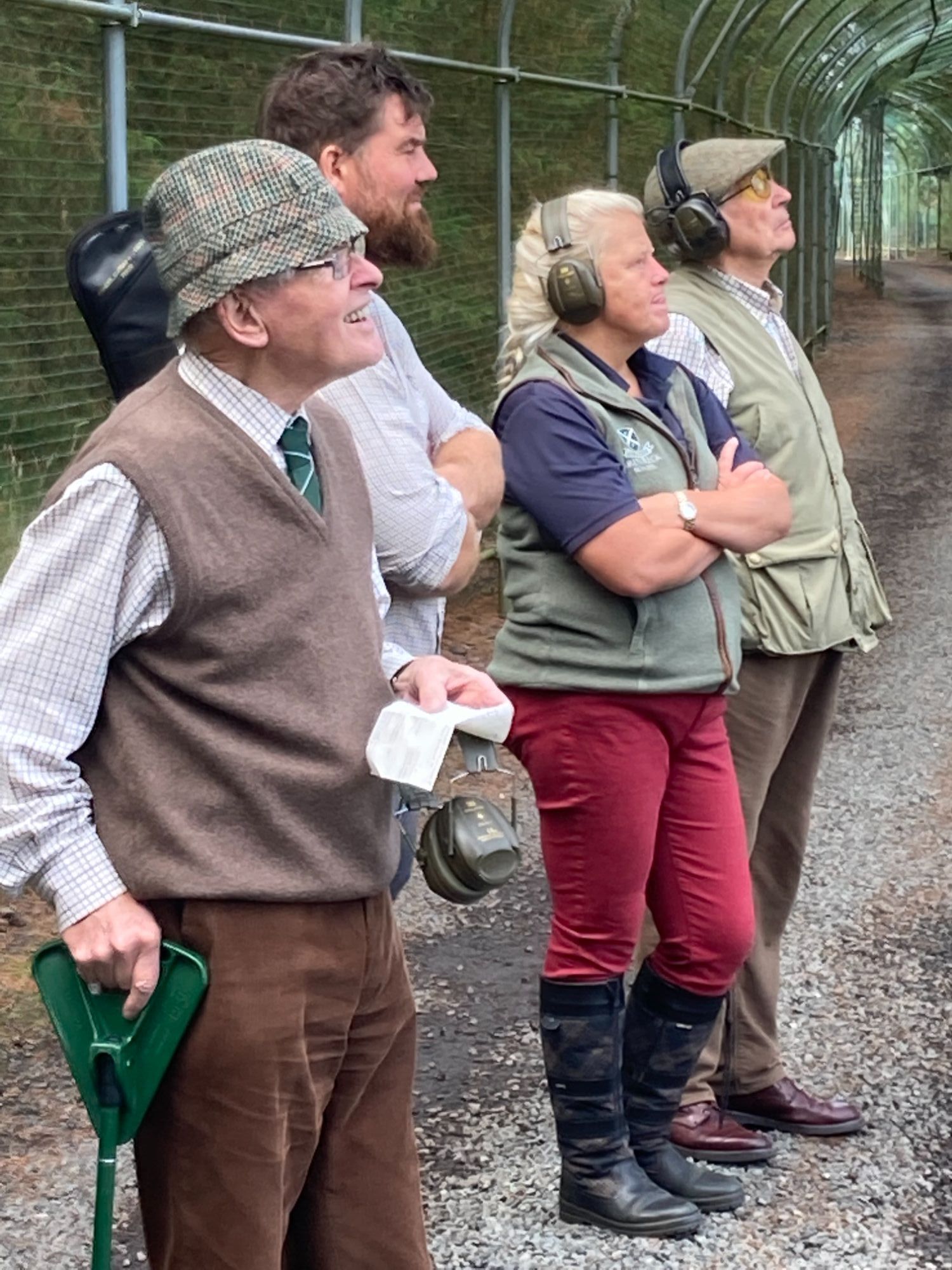 The Trojans swept to victory, although I thought I did see the smallest pang of sadness in Alan's (usually very smiley) eyes as he made his speech and relinquished the beloved rubber ducky to Ken, and I thought that Ken had a surprisingly joyful spring in his step when he went off to the engravers with the cup and the duck. I have since discovered that Ken is a highly regarded ornithologist- perhaps that explains his glee at winning the (not-exactly-blue-footed) booby prize.
Nicky James, who wasn't shooting this year, invented a whole new sport! I am Christening it 'Shooket'. It is a mixture of shooting and cricket, and not nearly as dangerous as that might sound. The rules are simple: You stand behind the gun currently at the stand and do your best to field the cartridge as it is ejected. Extreme wicket keeping- Howzat for a new sport? Our little group of 5 all had a go, but Nicky was light years ahead of the rest of us. John Gibb (1943-1949, Greek) gave Nicky the opportunity for some glorious catches.
Speaking of Ancient Greeks… the 4 sports which make up a Tetrathlon; shooting, swimming, running and riding, are all available for the pupils to master at Ardvreck. Of course, I mean tetra, the ancient Greek word for 4, nothing to do with the senior Greeks of the OA community…
It was wonderful to have had siblings, Emma (2011-2014, Trojan) and Alec Bruce-Gardyne (2009-2012, Greek) making up the young guns this year. They passed around a basket of freshly picked Victoria plums from their garden at the Barvick picnic lunch. Aside from being a thoughtful and delicious amuse-bouche, it also had the same effect as the ancient Scots tradition of passing around a quaich filled with whisky. What a brilliant unifier. Emma and Alec also cleverly scored the same points, which was just as well, as they'd decided between them that the loser was going to have to buy the fuel to get home again.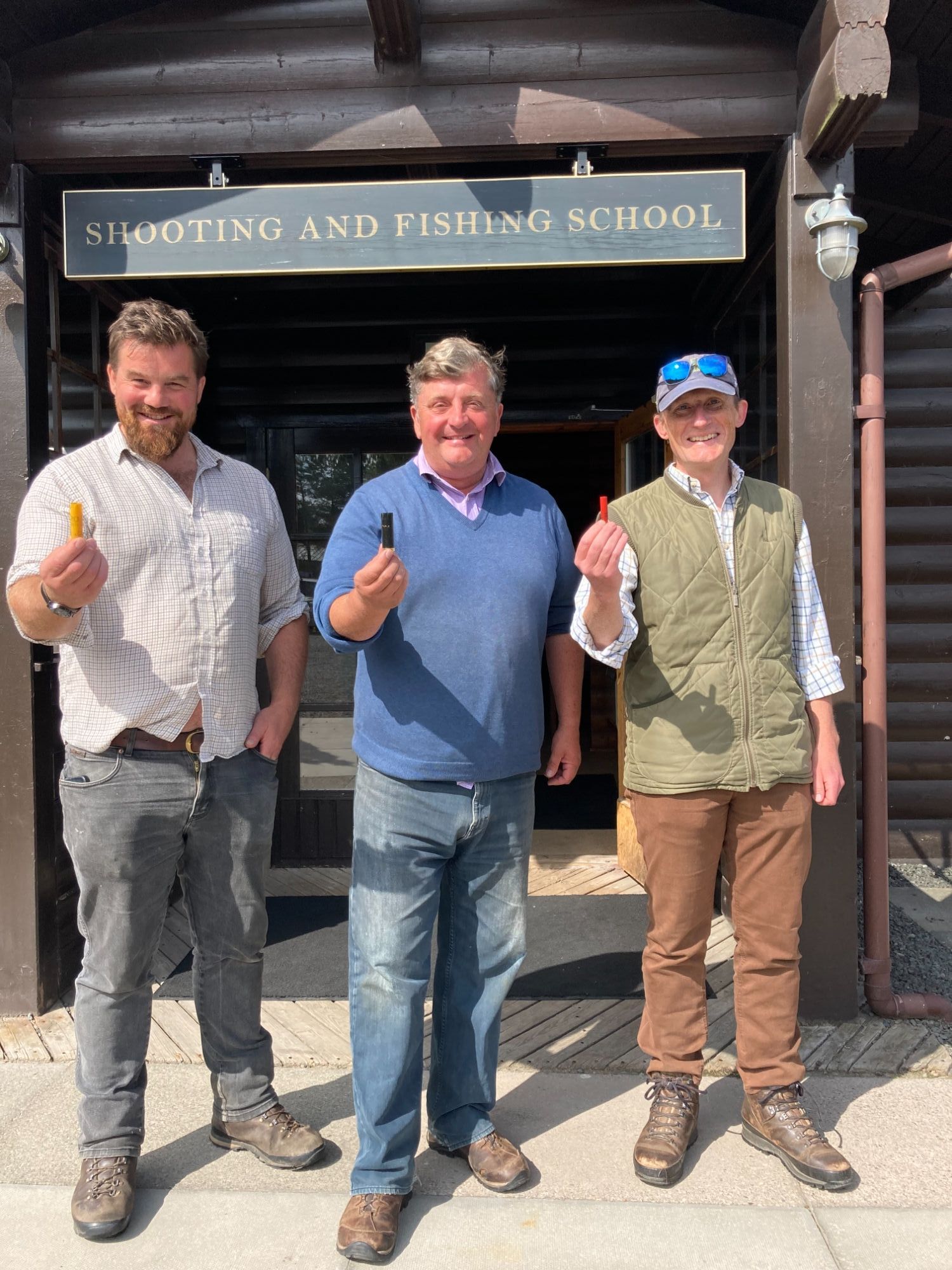 Gleneagles is a magnificent facility to have across the Glen from Ardvreck. The staff are extremely facilitating and friendly. This year, they set up their most powerful telescope for us on the Ptarmigan Stand. It has a focus of 4 miles! There was a tiny bit of haze on the day, making school a bit obscured, but looking across the purple heather and green foliage, I was struck by how in-tune the school is with its environment, both philosophically and in appearance. There was so much conversation about the preservation of bird species' during our day, especially the mighty, but desperately threatened, Capercaillie. The strength of feeling for the protection of the natural world seems to be powerfully shared by us all. I am sure that this is no co-incidence.
Course organiser, George Presslie (1945-1950) faithfully recreated the Barvick picnics of the 1940's by bringing a: pie, piece of fruit, and a handful of sweets. The liquid refreshments were definitely NOT faithfully recreated. In the 1940's the boys were encouraged to fill their bellies from banks where the blaeberries grow- if they were still hungry. Mother Nature providing during a time of rationing. It is little wonder that she is so revered.
Willie Scott (1946-1950) and Flo Earl (nee Griffiths, 1979-1985) made it to the Barvick picnic and Prize giving. Flo made it in time to see Jonny Earl, her husband and venerated school Governor explode onto the leaderboard in 3rd place. Who says practise makes perfect? Nonsense. Don't shoot for 10 years- that's the secret! Johnny had not fired a shotgun for over a decade. What an amazing result. At the other end of the leaderboard was Patrick Steuart Fothringham (1980-1986, Trojan), whose barrels are rarely cool, in fact he arrived at the OA shoot, fresh from another. I think that it's fair to say that Patrick was always, the 'bookies favourite' for top billing in this competition. He was, for sure, the secret weapon in the armoury of the Trojans. It was thanks, in large part, to Patrick that the Trojans ran off with the cup this year. Patrick also contributed a large amount (perhaps too much) to the inter-house debate by continually asserting the preposterous notion that Burns is the best house. The argie-bargie made for some entertaining exchanges, including goading the shooting mistress that she really should've shot better on the day…. (Don't worry, ladies and gentlemen, this has since been settled in the school range… and rather decisively, I might add. Certainly not by a 'gentlemanly' single shot). John Murray Lindsay (1984-1990, Trojan) retained his place at second on the leaderboard, treating the two impostors of defeat and victory, above him and below him, just the same.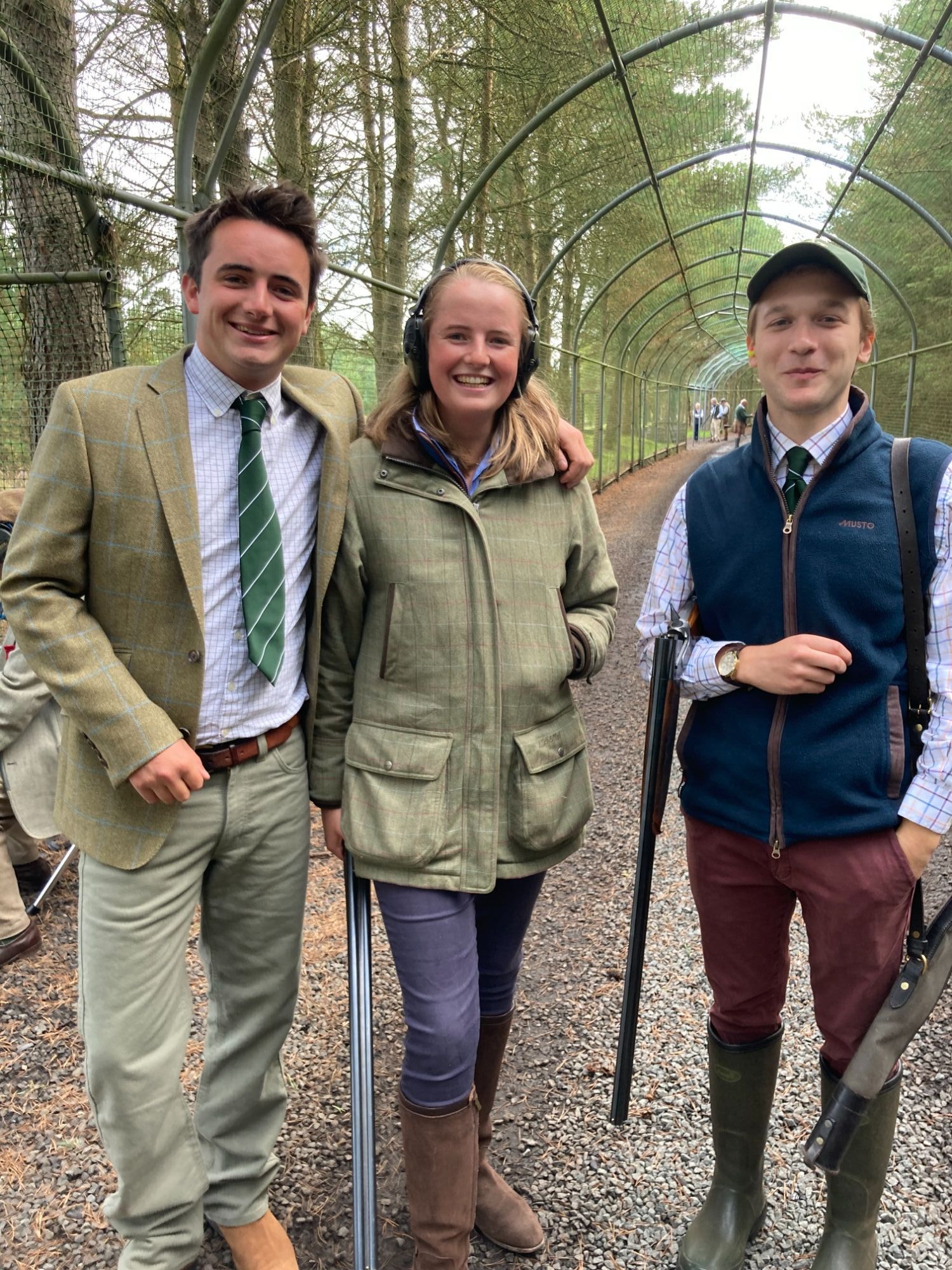 The score cards at Gleneagles look rather like binary code. A successful hit is marked with a 1, and a miss is marked with a zero. Of course, Patrick, John and Johnny's cards were raked with 1's and looked rather like the imprint of boot studs from a scrum. For my own part, the predominance of the lovely rotund zero was what I tended to favour, and so I decided that my score card was actually awash with well- earned rings, rather than bished-up misses. "You're behind. And a bit over the top", one of the instructors helpfully told me as I was failing dismally at the bolting rabbit stand. This is a description of myself that I've heard very many times before.
The Chairman of the Board of Governors, Jeremy Garrett- Cox addressed the assembled company with an extremely uplifting account of the previous year at Ardvreck. Jeremy arrived in true James Bond style- by flying himself to the match, and then proceeded to carry my rifle for me so that I could shoot photographs of the day. He really guaranteed himself a good write-up. The strong friendships made at Ardvreck were part of the Chairman's speech and we thought most particularly about David Reid (1945-1950), Patrick Thomson (1946-1951) and Nick Gibb (1983-1989) who were unable to attend. Ali Kinge handed the baton of speech making over to The Chairman for this year's lunch, but much of it sounded supremely Kinge-esque. She is surely 'M' in the 00 programme that I've been conjuring and thoroughly enjoyed her time back out being a field agent and powdering the odd clay.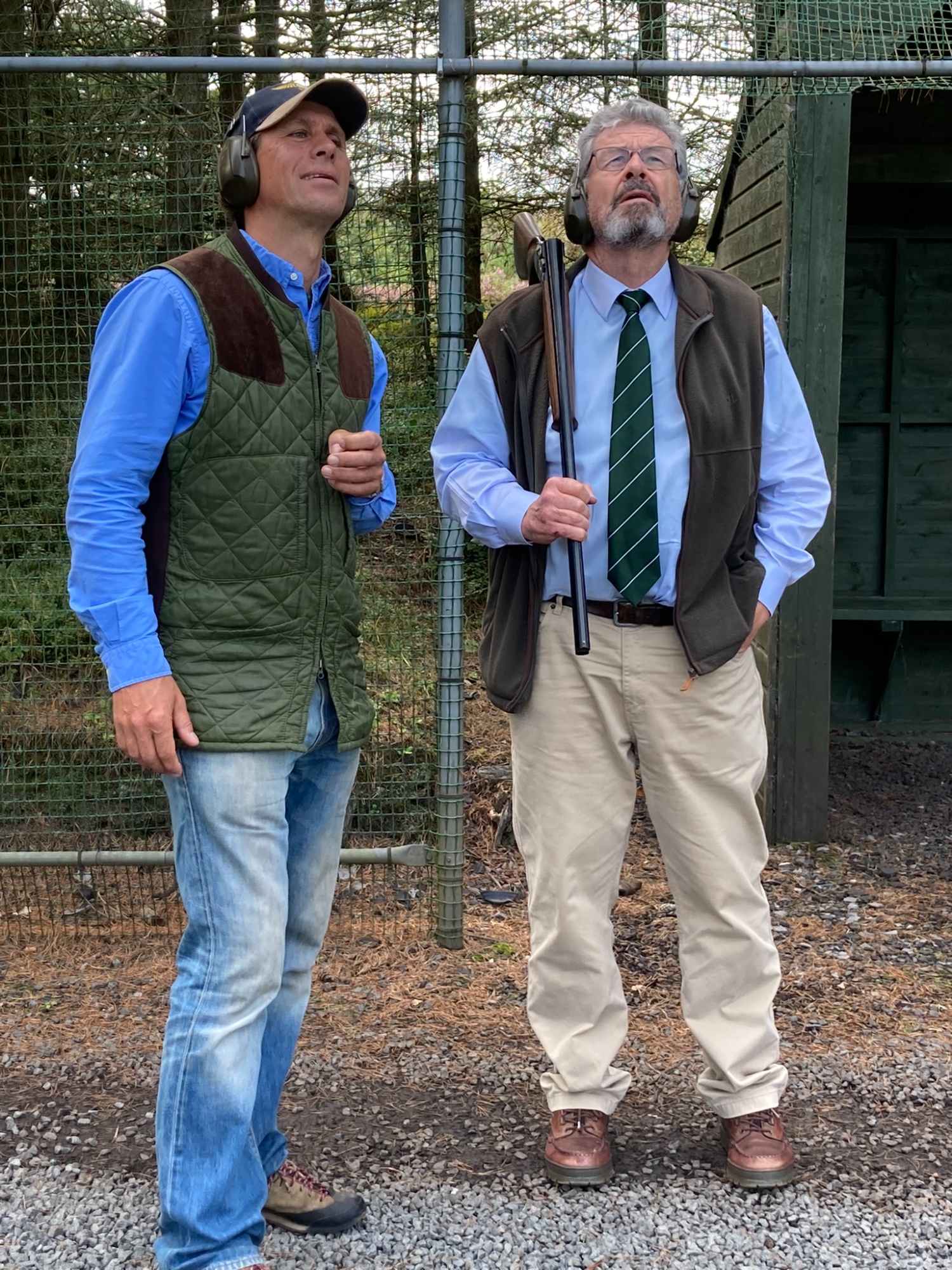 Annie Le Roy-Lewis was presented with a bottle of wine for all the skill and care that she puts into arranging the OA events, and in particular this shoot. The conversation inevitably led onto the Founders Day celebration which Annie was instrumental in delivering. Annie was also presented with a full complement of David Smythe (Headmaster 1937-1960) trophies as a meaningful gesture of thanks from the OA community, which of course includes her son, Torquil Le Roy-Lewis (2003-2012, Greek), himself a proper Top Gun. Torquil's reputation at this shoot is infamous, and I really enjoyed hearing him talk about the benefits of relying on your instincts when you're under pressure, rather than allowing yourself to become bogged down with thought. I am sure that this is what Jonny Earl tapped into. What a treasure of a shooting tip, and one which I will try to take back to the rifle range at school for the pupils to consider.
The OA clay pigeon shoot may take a slightly different format henceforth, probably as part of a wider programme of Barvick events. We are grateful to the senior OA's for having nurtured the competition over the years and look forward to supporting it in its new guise.
Trojans (Captained by Alan Mickel) 127
Greeks (Captained by Nicky James) 104
THE FLUSH
Greeks 21, Trojans 17
THE DAVID SMYTHE AWARD
1st Patrick Steuart Fothringham (prize of a spent 12 bore cartridge case) 35
2nd John Murray Lindsay (prize of a spent 20 bore cartridge case) 24
3rd Jonny Earl (prize of a spent 4-10 cartridge case) 21
Shot of the match, if such an award category exists, Alan Mickel
OVERALL WINNERS OF THE CUP FOR 2022 TO THE TROJANS